Event Musings with Bryan Rafanelli
Bryan Rafanelli is Boston's premiere event planning expert, and Founder of Rafanelli Events. He shares what he loves most about hosting events at The Newbury Boston, and offers several inspiring summertime entertaining tips.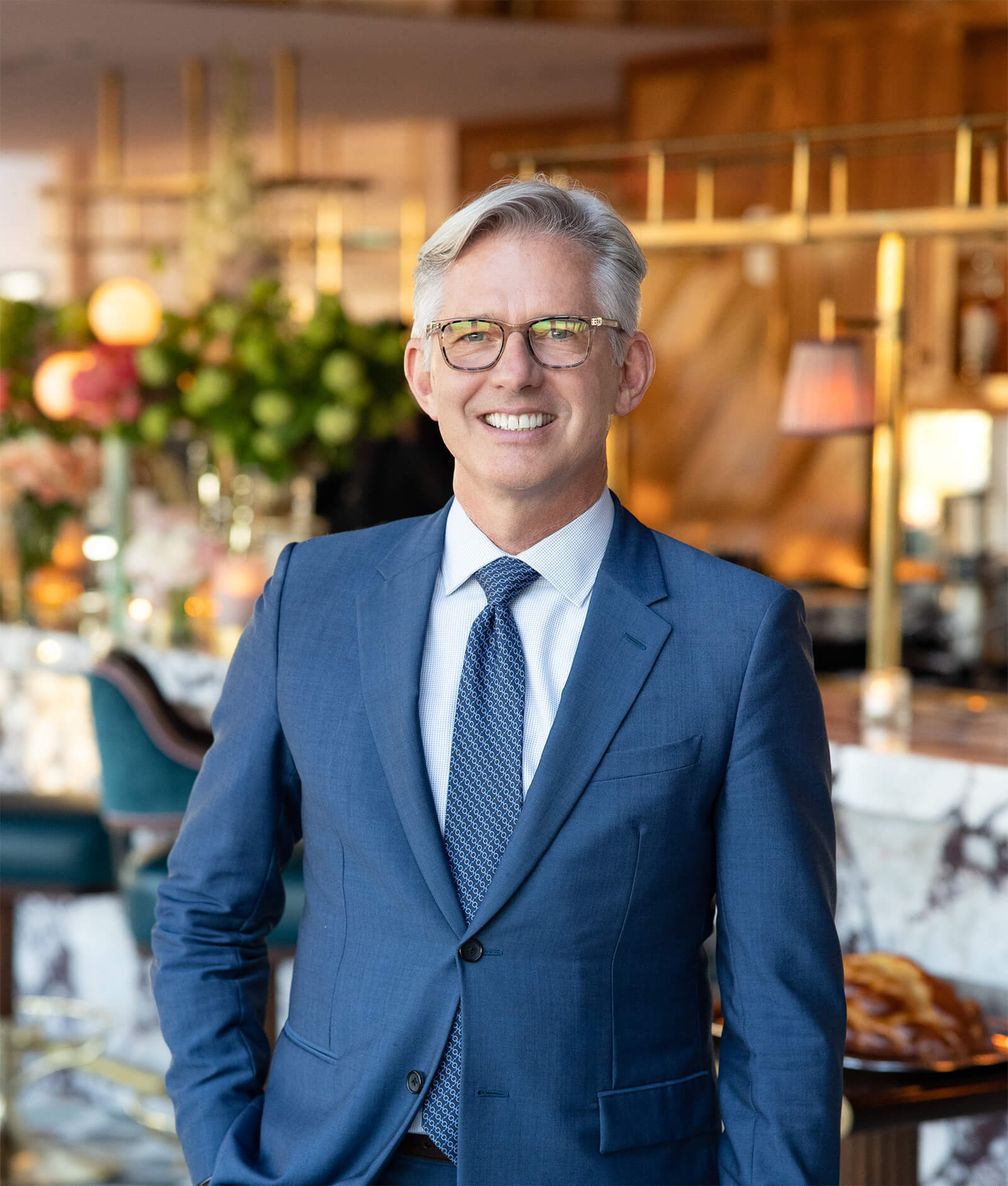 Boston's top event planner does it all
Over the last 25 years, Bryan Rafanelli has built a powerful reputation up and down the East Coast as a premier event planning expert. Whether throwing a beautiful wedding, inventive corporate event or meaningful non-profit fundraiser, Rafanelli Events exceeds all expectations in Boston and beyond. 
Rafanelli serves as Founder and Chief Creative Officer of Rafanelli Events, and is known for his customized approach to each and every project, paying close attention to detail to ensure each event is exceptional. Frequently lauded by the media, Rafanelli has been named a Top Wedding Planner by Harper's Bazaar, Departures and Martha Stewart Weddings, as well as "Man of the Moment" by Town & Country. 
Already having hosted several events at The Newbury Boston with many more in the pipeline, we sat down with Rafanelli to discuss what hosting an event at One Newbury Street looks like today (he even threw in some hot tips for entertaining this summer!).
---
What is your connection to Boston?
Having grown up in a large Rhode Island family, I moved to Boston - specifically the South End - in 1984 and basically never left. While I now spend half my time in Boston and half in New York City, Boston is where I started my business and it will always be an endless source of inspiration and happy memories for me. 
What stands out to you about hosting an event in Boston? How do events truly become authentic to this destination?
Boston is a relationship city. It's all about relationships, and there is definitely more of a hometown feel here compared to other big cities. Therefore, when looking for places that make sense for entertaining in Boston, you gravitate toward spots that everyone knows and feels comfortable at. Nowhere is this truer than at The Newbury Boston for Boston events. Being the Old Ritz, it has an iconic history to everyone in the city.For example, I recently hosted an 80th birthday party in the Garden Room. I actually hosted an 80th birthday 15 years ago in this same space, and (stay with me here) that gentleman was the mentor of the one who's birthday was just celebrated. And the one who just celebrated his birthday, is my business mentor. It was such a special evening for all of us.
You've hosted an event or two at The Newbury Boston already… tell us about them!
This new incarnation is a beautiful quality renovation that has people so excited to host and be at events in the space. It's such a handsome hotel, you just can't help but feel handsome yourself when you're there!

However, what stood out to me for the wedding we just hosted was the way you enter this beautiful lobby like you are entering a historic residence on Comm Ave. You feel like you're stepping into a grand old home, and then to walk up a grand staircase and enter an event space but never let go of that intimate feeling is so very special. I love how every event at The Newbury Boston feels like you are being invited into someone's home. 

Coming up, we have a 300 person wedding happening at the hotel and I love how we are using all of the spaces to create special and unique moments throughout the evening. Whether it's dancing to a 16 piece orchestra, enjoying the view from the rooftop restaurant or having a cocktail in a cozy nook, the entire hotel is being used and I can't wait to see it all in action. 
Where do you look to grab inspiration for your work?
I go to a couple of places and of course it's my clients I go to first and foremost. I ask them, how do they entertain, where do they travel, what kind of fashion are they into. I love to ask what their favorite party theme is in a movie. For example, The Great Gatsby party in the original movie versus the Baz Luhrmann rendition. I'll let you in on a little secret - my favorite is the iconic party scene in Meet Joe Black. This question helps me understand if they want a classic party, or something bright and glitzy. I also always look at what's going on on Netflix to keep up with the times… hello Bridgerton!
What do you find to be the biggest change in hosting an event at The Newbury Boston today versus its previous incarnations?
The biggest difference is that The Newbury is a modern hotel, and we are living in a new age. This time the hotel hasn't just caught up, they've gone above and beyond. Everything, from check-in to going to sleep, will stand the test of time. 

The management and staffing of the hotel also feels so right for right now. Carlos, the Managing Director, is absolutely incredible. He embraces you and makes you feel warm immediately, and is such a professional. He and his team just get us and our clients. They want every event to feel special and quality, but never stuffy. 
Favorite area for a photo backdrop at The Newbury Boston?
Ooh I love this question. I think it has to be the Garden Room. I want to stand in front of the paned windows facing the Public Garden and be framed by the beautiful teal velvet drapes. It's part of the magic of lifting the veil off this storied, iconic hotel. I'm delighted every time I see that view, no matter the time of day. Nowhere in Boston do you get to see the Public Garden this way, with the swan boats in the background and the garden artistry illuminating every element of the view. 
How do you incorporate summer (or other seasonalities) into your events?
When it comes to seasons, I think we all have different points of views as to what fall means versus spring. I'm not against that but I'd rather see autumn by way of variegated leaves and plants that draw in the burgundies and fading greens. That's the way to do it in a handsome, thoughtful way. I am constantly trying to reinterpret a person's vision of a season. Winter can be all about being reflective instead of being about white, and spring is all about growth, so I ask myself: how can we represent that at a party? For summer, it's like turning the lights on because everyone craves this time of year. We have 8-10 weeks to celebrate summer which is just not enough, so we need to go all out and enjoy every minute.
What big trends are you incorporating into your summer events?
Everyone's intention is to combat concerns over lingering COVID concerns, and of course we are being as thoughtful and careful as possible.  But we can still have some fun! Something I recently was asked to provide which I had never been asked before was sourcing a karaoke band. Just karaoke. The band will come with a list of songs to play for the birthday, and I'm so excited about it. I also don't have a karaoke song and they have promised to help me nail and deliver one (don't worry, Byran has promised to share the song with us once the event has taken place).

And of course, the Roaring 20s is currently a top trend. We recently had the attire for a birthday party set as Roaring Attire. It was so cool - you could come 20s-themed or in animal patterns or costumes. It made for a fun and fresh take on the 20s. 

Oh, and I'm also seeing people really dressing up. Cocktail attire and black tie are go to's - everyone is so excited to be out and putting on their fancy clothes, I love it!
Top three tips for hosting summer events at home?
Really all you need is a full bar. Honestly, you do this right and you basically don't need to do anything else! But for those of you (like me) who like to over-achieve and really nail at-home summertime entertaining, here are my tips:

Invite everyone! Throw open the guest list and invite as many people as possible. We all need A Great Party!
Pool inflatables. Every summer party needs an inflatable and there are so many great and fun pool floats out there in all shapes and sizes. Have a citrus party theme and fill the pool or yard with cherry, orange, lemon, lime and banana inflatables. Troll Amazon.com and you will have everything in 24 hours. Decor, done!
Keep it simple. All food served should be easy enough that guests never have to use a plate or fork and knife. Think mini-lobster rolls, gourmet chicken salad wraps, and skewer everything from mozzarella to watermelon. Don't forget to also have the most fun and colorful patterned trash barrels to make your life really easy. A happy host makes for the most fun party!