Q&A with Major Food Group's Co-Founder Mario Carbone
The Co-Founder of the internationally acclaimed hospitality company sits down and opens up about what to expect from the upcoming collaboration with The Newbury Boston.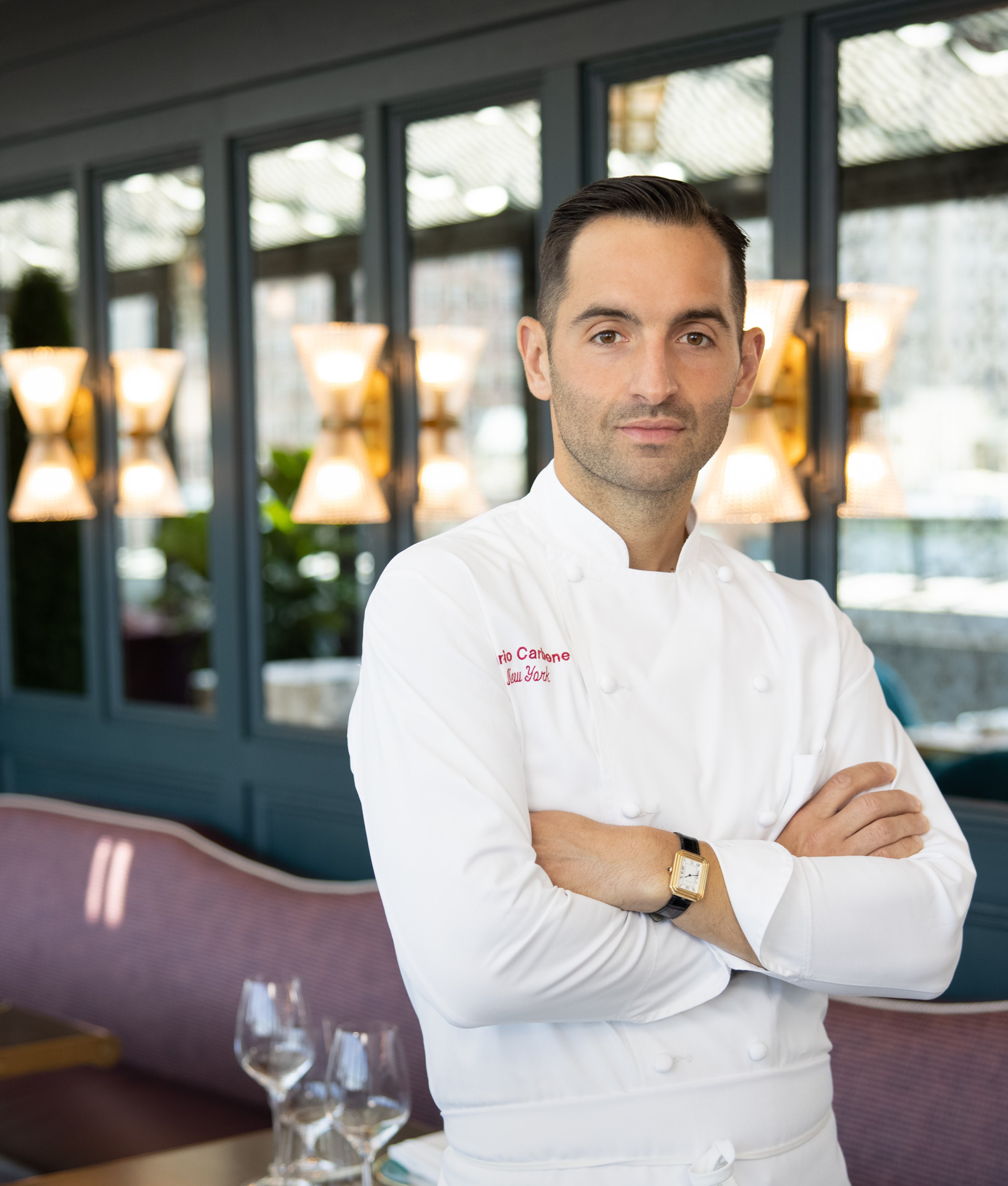 When The Newbury Boston opens this spring, it will pay homage to its timeless and rich history, while taking great care to incorporate modern luxury and carefully curated guest experiences. One of the most anticipated experiences will be on-site dining offered in partnership with Major Food Group (MFG). 
MFG, the internationally acclaimed hospitality company behind beloved favorites such as Carbone, The Grill and Sadelle's, currently operates more than 20 restaurants worldwide, including cities such as New York, Hong Kong and Las Vegas. MFG will operate Contessa, as well as consult on all food & beverage at the hotel including The Street Bar, Contessa, personal dining, afternoon tea, and on-site catering for events, making this the company's first foray into Boston. 
It's here, at this iconic Back Bay landmark, that MFG will deliver a transformative hospitality experience - one that celebrates the exquisite landscapes of Boston with historical food nods and culinary cues from the great talents of the past and present. 
We sat down with MFG's Co-Founder Chef Mario Carbone to discuss this new venture, and his love of Boston. 
---
You have establishments in New York, Las Vegas, Hong Kong, and now Boston. What was it about this city that spoke to you, and inspired you to introduce an MFG experience here?
The hotel itself was the inspiration. We love projects that have great providence and history. We are nostalgic by nature as a company, and take great pride in revitalization. We're doing everything possible to bring this landmark back to its days of glory through the on-site food & beverage scene. Afterall, this is the Old Ritz.
You are known for providing multi-dimensional, immersive experiences deeply-rooted in and inspired by relevant history and culture. How does this translate to the experience you are creating at The Newbury Boston? 
Our process is a particular one, and it always begins with us researching the property in advance. We look at the ways guests of the past used it historically and search for historical references. Through this process, we work backward to bring things to the forefront, ensuring it all remains contemporary enough for this day and age. The smallest of details, like the epaulettes found on the uniforms for instance, are equally as important to the big, splashy statements. When we have guests come to dine with us, we don't want them to feel like they are viewing a movie set, we want them to feel like a character in the movie itself.  
As a born and bred New Yorker, tell us about the first time you visited Boston. Any special memories about the Back Bay itself?
Funny enough, the first time I visited Boston I stayed in the Back Bay. I was in my late teens and a student at the CIA (Culinary Institute of America) where I played on the basketball team. We were invited to play an intramural tournament at Boston University... although, come to think of it, I can't tell you whether we won or lost. I do remember taking some time to explore Boston's North End. It's something I do in every city I visit, taking time out to stroll along the streets and taste the memories. 
Your team is responsible for one of the hotel's biggest dining moments - Contessa, the rooftop restaurant. You're also working with the culinary team at The Newbury on The Street Bar, a local icon. They are unique and very different from each other. Tell us more. 
Yes, The Street Bar is very different from the Contessa. The whole idea here is to revive one of the favorite spots in the neighborhood, officially name it "The Street Bar" and deliver an experience here that is the same, but better than ever. The menu will feature the very best in bar cuisine. Think: classic burgers, homemade fries, delicious lobster chowder, and a simple but decadent pot pie. The idea here is iconic New England cuisine.

The signature rooftop restaurant, Contessa, is unlike anything else that currently lives in Boston. The concept here derives from that of a northern Italy grand trattoria. The service will be elevated yet relaxed, and the food will be beautifully simple with wonderful ingredients.  We'll serve three meals a day and it will be the backdrop for a variety of uses - everything from a business cup of coffee to a romantic date night. 
We know you'll be providing an Afternoon Tea program at the hotel. Tell us about the menu.
We're going to bring a whole new level of care and execution to it, not quite breaking the mold here but bringing a homemade quintessential touch to it all. Think: a larger selection of options yet fare that one would typically assume to find on the afternoon tea menu. We'll have chicken salad and cucumber tea sandwiches lined up like toy soldiers, smoked salmon beautifully displayed, homemade pastries and a wide array of tea and coffee. 
Your team will be involved in all events hosted at the hotel. How does that experience differ from the other on-property moments you've created?
First and foremost, when it comes to hosting events in a grand, historic ballroom like the one at The Newbury Boston, you do not want to get in the way of the building. So many generations have celebrated events here, you want to let the space breathe, and allow guests to experience the wonder and heritage uninhibited. We want to be complementary to this property, so when preparing the events menu we made sure to provide enough options for the guest that while not pretentious are still super elegant, and also allow the food to focus on great American fare which complements the hotel itself very nicely.
It's safe to say that enjoying delicious meals and top service without ever leaving the room are perhaps the most decadent part of any hotel stay. How does the MFG experience translate into in-room dining?
I'm room service obsessed when I travel, and let me tell you, I do not want my room service messed with. If you stay with us, for breakfast, I think there's nothing better than a warm, homemade croissant and a cup of coffee. For lunch, try our classic club sandwich, alongside a fresh shrimp cocktail. And for dinner, I'd suggest ordering the steak accompanied by homemade french fries, a glass of red wine and some delicious homemade ice cream.