The Library at The Newbury & Your Summer Reading List
A Salon for the Arts at The Newbury & Your Summer Reading List by Trident Booksellers.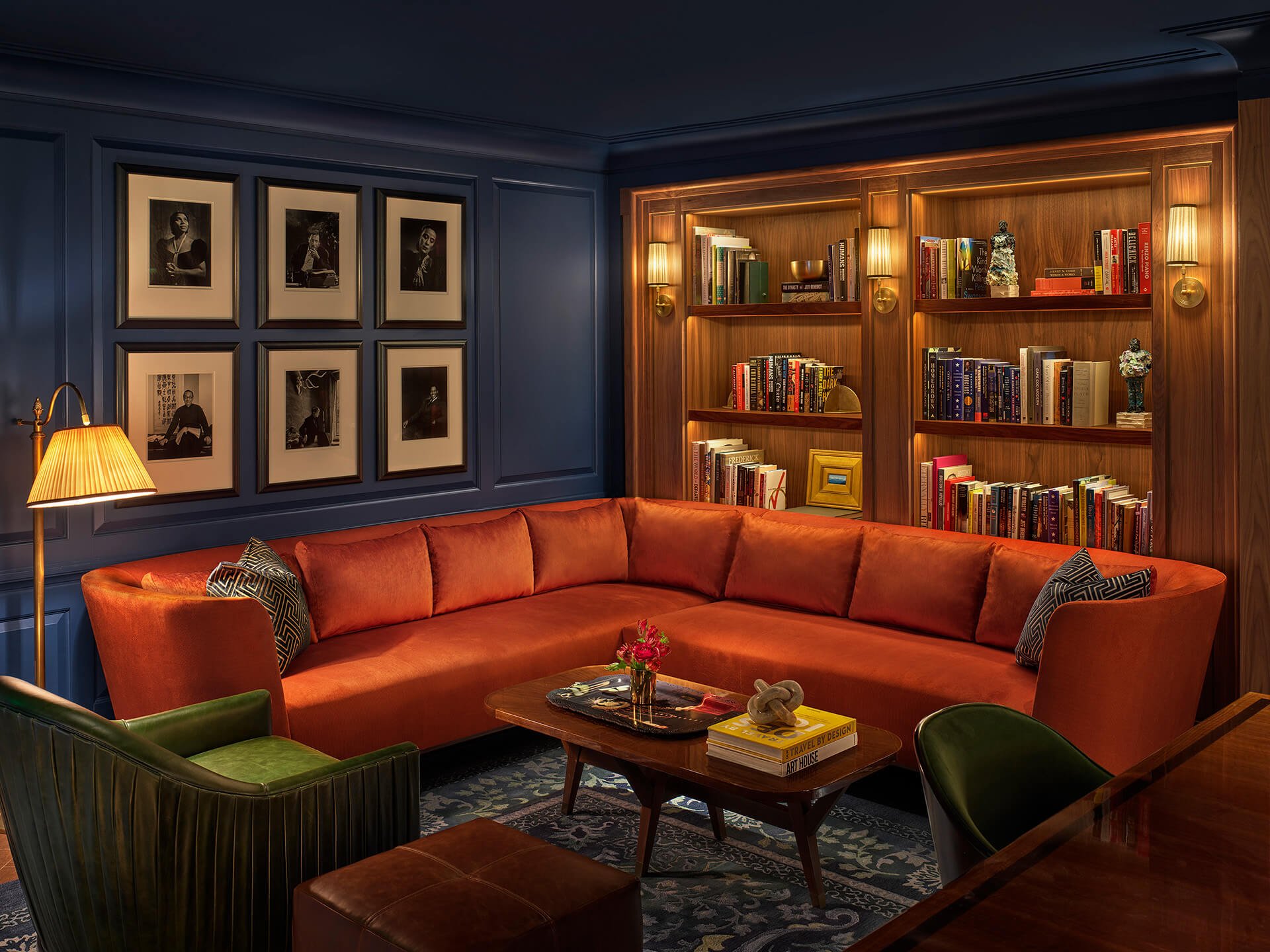 The Library at The Newbury represents the mind and soul of the legendary hotel where the curious gather to enjoy exclusive access to a modern lounge. In the Library lounge, guests can enjoy select provisions from The Street Bar, an unmatched selection of contemporary artwork, and shelves of literary reads for every interest. The Library at The Newbury is the perfect place to let your mind roam free, whether in a book or over cocktails and conversation. 
Curated and sourced in collaboration with the historic Boston Public Library and Trident Booksellers, a premier independent bookstore in the Back Bay neighborhood, the riveting collection spans a wide array of interests and includes fiction, poetry, fashion, Boston history, food and travel, as well as eye popping large format books featuring art and architecture.
Readers will find the elegant words of Phillis Wheatley, Longfellow, and Thoreau; the empowering oratory of John F. Kennedy; and current works by Boston-based authors like Ibram X. Kendi,  Dennis Lehane, Nakia Hill, Celeste Ng, Jhumpa Lahiri, Louise Glück, and Ben Mezrich. Each book was carefully selected to celebrate the city and awaken the curious mind to adventure, creativity, history and style.
As part of our love letter to Boston, browse our handpicked summer reading list from Courtney Flynn, co-owner of Trident Booksellers and a key curator of the Library lounge special collection. This list features excellent works written by some of Boston's favorite authors that are perfect for the summer. 
---
Boston Inspired Summer Reading List from Trident Booksellers
Four Hundred Souls by Ibram X. Kendi
Boston University professor and bestselling author Ibram X. Kendi put together this choral history of black voices, including writers, poets, and activists. The essays are a constellation of topics that help paint a broader picture of American history from the perspective of Black Americans. From slavery to the Black Lives Matter movement, this book is an important and topical read.
Golden Girl by Elin Hilderbrand
Have you ever wondered how people would react after you die? In Elin Hilderbrand's newest book, the main character is an author who lives on Nantucket (suspiciously similar to Hilderbrand herself) who abruptly passes away. In a twist, she is able to observe her three young adult children and ex-husband as they reel from the grief of their loss and try to get their lives together. Despite the macabre premise, 'Golden Girl' is a fun, absorbing read that will make you feel like you're spending the summer on Nantucket. 
That Summer by Jennifer Weiner
Set mostly on the Cape, the newest novel by Jennifer Weiner is an emotionally charged story of two women whose lives have intersected because of one man's past actions. The pain in each of their pasts have led them to very different places, and it takes meeting each other in their middle age to realize that there is another way to live. The characters, Cape Code setting, and twisty plot make it the perfect beach read. 
Summertime Guests by Wendy Francis
Following several guests at the famed Seafarer Hotel in Boston, the story begins when one woman dies from falling (or jumping?) out a hotel window. We then delve into the lives of these strangers who are now connected by the tragedy. Like looking through the blinds into someone's home, readers are privy to the emotional worlds of the characters as they grapple with their sometimes messy lives. Set in and around Boston, this is a novel with a touch of mystery. 
Writers and Lovers by Lily King
Casey is a writer who just happens to wait tables at a high end Cambridge restaurant. Or is she a waiter who just happens to write? Now in her early thirties, it's time for Casey to decide how she wants her life to go, but with the recent death of her mother, her life isn't close to settled. On top of that, she has to decide which of her lovers is the one--the older professor with two kids, or the wayward fellow writer who still has roommates? Beautifully written and personal, this is one of my favorites all year. 
The newest from Emerson graduate Steven Rowley 'The Guncle' is a hilarious and touching novel about a formerly famous sitcom star who is now caring for his niece and nephew. As a single gay man, Patrick has no idea how to parent children, but with some practice and openness, hew rises to the occasion. 
Boston's Oldest Buildings and Where to Find Them by Joseph Bagley
Visitors to Boston will love reading this and then setting out on their own to find these historic buildings. Written in an approachable manner, Bagley maps out 50 of Boston's oldest and most interesting buildings. For history buffs and architect connoisseurs.