Your Travel Guide to Visiting Boston in the Fall
The Newbury Boston's concierge shares their top things to do in Boston in the fall.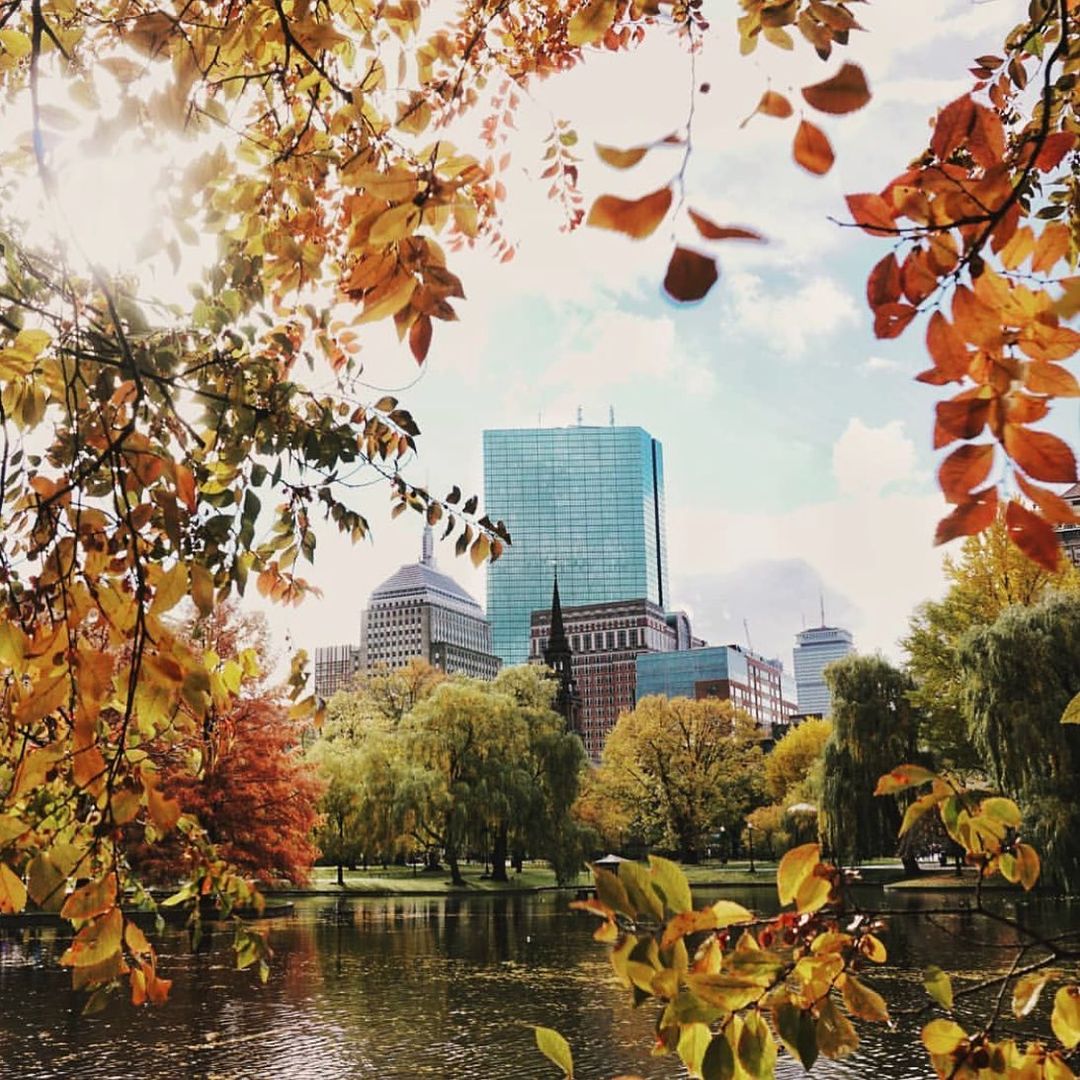 Nothing says fall in New England quite like the unforgettable show the foliage puts on for us during this time. Feast your eyes on the gold and crimson leaves as they blaze across the city from late September through October, and often well into November. As temperatures get cooler and crisper, button up your coat, savor a warm drink, and delight in the beauty that is Boston in autumn. Whether you're strolling one of many colorful tree-lined streets, indulging in a leisurely picnic in the Public Garden, or spending a cozy afternoon in the library flipping the pages of your favorite book - there is no wrong way to spend time in the heart of New England. Fortunately, I had the pleasure of calling on one of The Newbury Boston's very own concierge, Joe Witherell, who kindly shared his expert insight on how to spend a fall day in Boston. Below are his recommendations (along with mine) on how to experience Boston's Back Bay the most fully in the autumn months. 
---
The Charles River Esplanade
This is one of the most stunning places to relish in the colorful and memorable moments of Boston, and for good reason. There's nothing quite like it in the fall, when the autumnal trees reflect over the deep blue of the Charles, making Bostonians and visitors alike swoon. The Esplanade stretches for three miles along the Charles River, spanning from Beacon Hill to Back Bay. Walk or go for a bicycle ride along the river path for as long as you please, and don't forget they host some of Boston's seasonal beer gardens.
The Boston Public Garden and Boston Common
This is another stellar spot to take in the changing of the seasons (and my personal favorite - as it's in my very own front yard). May I suggest picking up your favorite to-go snack or beverage and enjoying it overlooking the Public Garden's idyllic lagoon? And be sure to bring your furry four-legged friends with you as well.  Joe states, "The Boston Common in the fall is amazing. It has a section of the park designated as an off-leash area for dogs, perfect for those traveling with their pets." No matter how you choose to spend your time while visiting The Boston Public Garden and Boston Common, the breathtaking sights certainly won't disappoint.

Newbury Street Shopping
If shopping is more your style, all you need to do is step outside The Newbury's doors and you are in fashion heaven. Newbury Street offers opportunities to shop for all kinds of fashion, from internationally known designers such as Tiffany's, Zegna, Chanel, and Cartier, to local, trendy boutiques, you will surely find whatever you are looking for. For menswear specifically, Joe notes, "Sault New England is my go-to for quintessential New England casual looks. For high fashion, nothing compares to Alan Bilzerian, and for more formal attire, I like Mr. Sid in the Seaport for a very polished, contemporary look, or Drinkwaters in Cambridge for more of a traditional, professional aesthetic." If you are looking for women's wear off of busy Newbury Street, stop by Dress Boston on Charles Street in picturesque Beacon Hill or allow The Newbury concierge to secure an appointment at famed designer, Daniela Corte. 
Fenway Park
No trip to Boston is complete without witnessing the iconic treasure that is Fenway Park. Revel in the exciting atmosphere at a Boston Red Sox game before the season ends in early October. If baseball is not what you seek, the Fenway Concert Series brings top artists such as Maroon 5, Jonas Brothers and Lady Gaga to perform under bright lights and open skies.  But Fenway offers more than sports and entertainment, it also is home to the Isabella Stewart Gardner Museum, located just around the corner, where you can spend endless hours exploring her extraordinary art collection. A daring visionary described by a Boston reporter of her time as "one of the seven wonders of Boston," Isabella Stewart Gardner is a household name in Boston. The breathtaking courtyard garden in this stunning 1903 mansion is an iconic landmark. 
Head of the Charles Regatta
One of the best places to be during a fall weekend in Boston is the Head of the Charles Regatta, the third weekend of each year in October. Top rowers from across the world make their way down the Charles River, just as the fall colors reach their peak around them. The surrounding event and festivities are nothing short of spectacular and a perfect excuse to get outside and enjoy the October weather.
SoWa Art + Design District
Art is at the center of all things Newbury and something I hold near and dear to my very own heart. Just steps outside of my doors, enjoy sensational gallery hopping on Newbury Street, where long-standing galleries fill gorgeous Victorian-era mansions. A work of art on its own, there's no better time to stroll Newbury Street than when the trees' colors are in full bloom, perfectly complementing the historical architecture all around. However, if you're looking to venture away from Newbury Street to satisfy your art cravings, the SoWa Art + Design District is always first on my list. Accomplishing quite the renaissance of its own, this vibrant community emerged from an area once known for being filled with neglected warehouses. Today, the SoWa Art + Design District is a renowned arts, retail, and lifestyle destination. Joe notes, "I have found my own most interesting pieces have always come straight from the artists at First Fridays open studios in the SoWa Art + Design District."
At the end of a long, awe-inspiring day spent taking in all that the wonderful city of Boston has to offer in the fall, relax and find respite in my home on Newbury Street. Warm up in the Library, reflecting on the fall scenes with a cup of tea or something stronger if you'd like. As Joe says, "between the curated book collection from the team at the Boston Public Library, to the comfortable sofas and thought-provoking artwork, I just find it to be a perfect place to relax." That's all for now. I'll see you when the summer cools off, and the leaves turn to fall.
...XOXO