Autumn Adventures in Boston
Fall in love with Boston, with our seasonal guide to autumn adventures.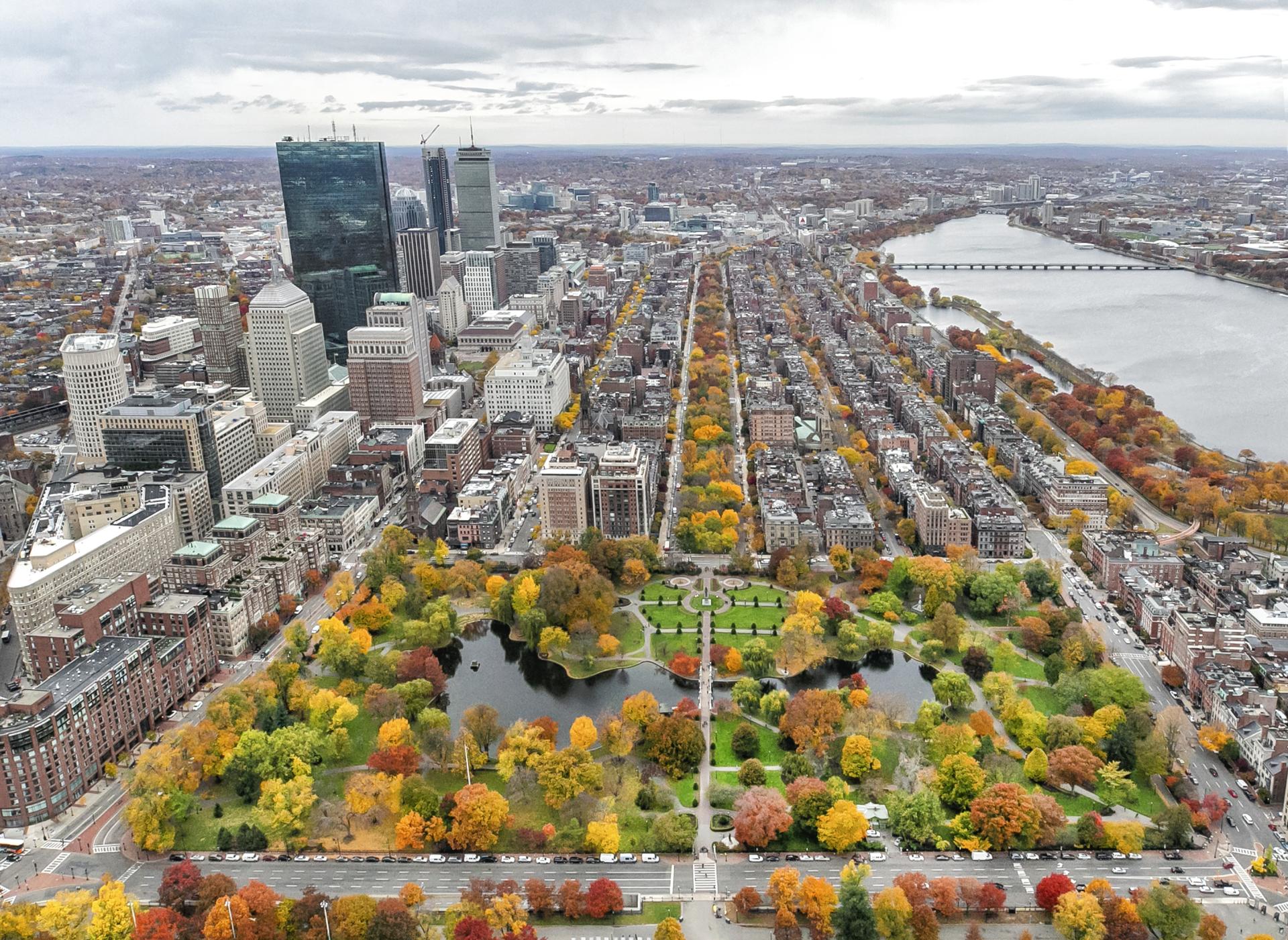 As the crisp breeze rustles through the leaves and the cityscape transforms into a tableau of warm hues, Boston emerges as a captivating playground for fall enthusiasts. At The Newbury Boston, we invite you to savor the magic of the season with our curated guide to the best autumn adventures in the city.
1. Stroll Along the Charles River Esplanade:
Embrace the breathtaking foliage along the Charles River Esplanade, where vibrant colors reflect on the water's surface and create a mesmerizing scene perfect for romantic walks and serene contemplation. The Esplanade is also a popular location for runners looking to get their day started with a beautiful sunrise jaunt. 
2. Explore Historic Beacon Hill:
Wander the cobblestone streets of Beacon Hill, lined with ivy-covered brownstones and the glow from the iconic gas lamps. Although the architecture will draw you in, there are charming antique stores, fashionable boutiques and an artisanal chocolate shop, offering a glimpse into Boston's rich history and autumnal charm.  
3. Attend a Fall Theatre Performance:
Boston's renowned theatre scene comes alive in the fall, offering captivating shows and Broadway productions that will transport you to different worlds and ignite your imagination. Read our guide to learn more Boston's theatre scene this fall. 
4. Sip Seasonal Flavors:
Indulge in the flavors of fall with visits to local cafes and bakeries on Newbury Street, where you can savor pumpkin spiced lattes, apple pastries, and other delectable treats that celebrate the season. 
5. Visit The Public Garden:
Take a leisurely stroll through The Public Garden, where the winding pathways, curated flowerbeds, and the tranquil lagoon create a picture-perfect backdrop for enjoying the fall foliage.
6. Catch a Game:
Fall isn't complete without experiencing a Celtics, Bruins, or Patriots game where the electric atmosphere and passionate fans make for an unforgettable sporting experience. 
7. Explore Art and Museums:
Delve into Boston's rich cultural scene by visiting world-class museums like the Museum of Fine Arts and the Isabella Stewart Gardner Museum, where art and history come alive. The 'Fashioned by Sargent' exhibit at the MFA is running from October 8, 2023–January 15, 2024, and is a can't miss collection of the prolific painter's finest works. 
8. Take a Scenic Drive:
Embark on a scenic drive to nearby picturesque towns like World's End or Concord, where you can immerse yourself in history and enjoy the quintessential New England fall scenery. Discover more in our guide to fall foliage road trips from Boston.
9. Admire Fall Foliage from Above:
For a unique perspective, consider a helicopter ride or a trip to View Boston, a 360-degree observation deck at the top of the Prudential Tower to witness the breathtaking foliage from above. 
10. Unwind at The Newbury Boston:
After a day of fall adventures, return to the residential comfort of The Newbury Boston, where our cozy fireplace suites offer the perfect sanctuary in the heart of the city. After all, a perfect New England fall day is not complete without a nightcap next to a warm, crackling fireplace. 
This fall, let Boston's autumnal beauty and rich cultural offerings sweep you off your feet. Create unforgettable memories as you explore the city's captivating landscapes, artistic treasures, and seasonal delights. Experience the enchantment of fall in Boston, where every moment is an opportunity to fall in love with the season all over again.